Building a Strong
Foundation for New Ideas
IP understanding matters 
Knowledge is power, but today it is also currency.
Creations of the mind – intellectual property – are increasing at a record rate, and with them, confusion and theft. Knowing what intellectual property rights like patents and copyrights achieve and why we need to rely on them is not just for lawyers, it's for everyone.
The Center for Intellectual Property Understanding (CIPU) is an independent, non-profit organization that helps to raise awareness of IP rights and their impact on commerce, people and society.
CIPU's goals: raise IP awareness, enhance value, deter infringement and provide a conducive environment for sharing new ideas.
_______________________
World's Largest News Agency Cites CIPU Report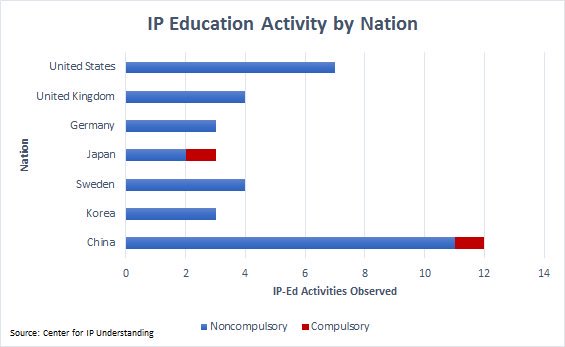 The complete feature article, "IP Education Focuses China's Young Minds," can be read here . 
---
Recent Developments:
Latest CIPU Report – "IP Awareness and Attitudes: A Summary of Research and Data"
April 2019
A summary of research and surveys focusing on IP awareness and attitudes conducted over the past decade in the U.S., Europe, and Asia reveals a growing disconnect between consumers intellectual property awareness and behaviors.
For the full report click here
_________________
Second IP Awareness Summit – "IP Literacy in a Digital World"
The latest IP Awareness Summit was hosted by CIPU in conjunction with Columbia Technology Ventures at the Columbia School of Journalism. It included four keynote speakers, including USPTO Director Andrei Iancu, 17 topic speakers, four panels, three breakout sessions and 120 participants.
For the program, presenters and partners, visit ipawarenesssummit.com
_________________
Two-Minute CIPU Annimation – "What is IP? Why Should I care"
April 2019

_________________
Building bridges not barricades
Even though IP rights – incentives that protect inventions,  music, books, brands and other creative works – are an integral part of the U.S. Constitution, they are often regarded as obstacles.
The goal of CIPU is to help key audiences, including educators, students, entrepreneurs and investors, understand how IP rights affect peoples' lives and future – to be more mindful of IP and its impact.