Building a Strong
Foundation for New Ideas
IP rights create opportunity. But to most people, what they achieve is unclear.
The Center for Intellectual Property Understanding (CIPU) is an independent, non-profit organization dedicated to increasing awareness of the impact of intellectual property on peoples' lives.
It tracks attitudes towards patents, trademarks and copyrights, and seeks to dispel misinformation and facilitate good IP behavior. CIPU provides a framework for understanding how IP rights promote competition and create jobs.
 A summary of recent CIPU accomplishments and contributors can be found here.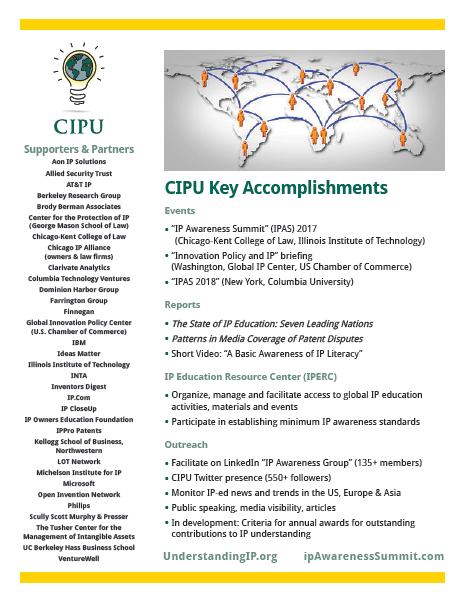 _________________
RECENT DEVELOPMENT:

The 2018 IP Awareness Summit was hosted by CIPU in conjunction with Columbia University and Columbia Technology Ventures.
It included four keynote speakers, including USPTO Director Andrei Iancu, 17 topic speakers, four panels, three breakout sessions and 120 participants.
For the this year's program, presenters and partners, visit ipawarenesssummit.com
IP Understanding Matters
Ideas are the primary value-driver for business today. Yet the rights that protect inventions, recorded music, books, branded goods and other creative works are regarded by many as obstacles.
The mission of the Center for Intellectual Property Understanding (CIPU) is help the public, government business to understand how IP rights affect peoples' lives, and why they need to be taken seriously.